The 2021 Subaru Love Promise Customer and Community Commitment Award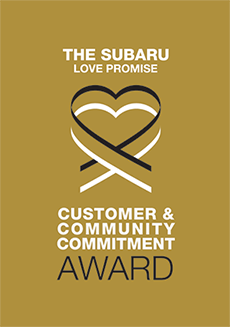 We've been nationally recognized for our dedication to our customers, our community, and the Subaru Love Promise.
We're honored to receive the 2021 Subaru Love Promise Customer and Community Commitment Award. This award nationally recognizes elite Subaru retailers who provide an exceptional customer experience at every interaction with Subaru. These retailers have also demonstrated an outstanding commitment to supporting passions and causes in their local communities in important areas such as the environment, community, health, education, and pets.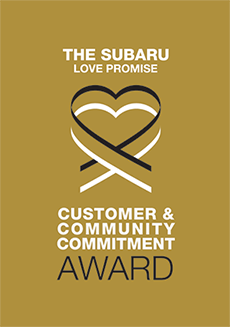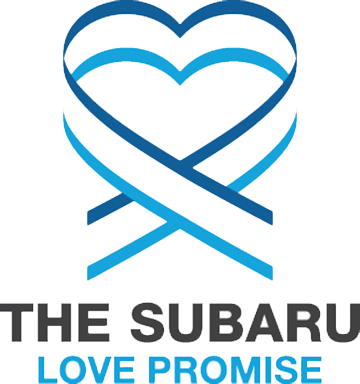 What is the Subaru Love Promise?
Subaru and our retailers believe in making the world a better place and the Subaru Love Promise is our vision of respecting all people. This is our commitment to show love and respect to our customers and to work to make a positive impact in the world.
How is Fairway Subaru dedicated locally to the Love Promise?
Our Love Promise can be seen in various partnerships with local charities and non-profits. We're grateful for the opportunity to serve our Greenville community.
Greenville Humane Society, Greenville County Animal Care
Camperdown Academy, Public Education Partners
Meals on Wheels of Greenville County, United Way of Greenville County, Make-A-Wish
American Heart Association, Alzheimer's Association
Love Promise Stories from Fairway Subaru
Subaru and Fairway Subaru believe in making a positive impact on the communities in which we live and work. We uphold that belief through our Love Promise Community Commitment. Every month, we select inspiring stories from customers and partners from around our area who strive to support our collective commitment and feature them here
Thanks for Sharing the Love to Grant Wishes - Kea W
When we share love, we change lives. That's why the Subaru Share the Love event means so much to our mission. Make-A-Wish South Carolina creates life-changing wishes for children with critical illnesses. We are beyond grateful for the continued support from the Fairway Subaru team and the 2020 Share the Love event. Thank you for helping make wishes like Wyatt's wish "to have a Bernedoodle puppy" come true during the Share the Love event! Right now, in this world of uncertainty when many travel wishes have had to be delayed, the team at Fairway Subaru continues to be a bright star for local wish kids - bringing renewed hope and joy to children, families and communities when they need it most!
---
Fairway Subaru: a dog's best friend. - Julia B
Fairway Subaru is committed to returning the love that pets give us - especially the homeless ones. During the whole month of October, Fairway Subaru donated $100 for every dog or cat adopted here at the Greenville Humane Society (up to 31 dogs). They also held a pet supply drive throughout the month, filling an entire Subaru Crosstrek. with pet food, treats, and toys. In honor of National Make a Dog's Day on October 22, the Fairway Subaru team took adoptable underdog Lizzie on a full day adventure. Before getting started, she met the entire dealership team, where she received lots of belly rubs and play time. Next, the team took Lizzie to the Swamp Rabbit trail to take her on a walk and enjoy play time in the park. Lizzie's day was completed with a trip to the Barkery Bistro, where she was able to pick out and enjoy specialty dog treats. Later that day, Lizzie was adopted - making National Make Dog's Day the best day ever for Lizzie. Fairway Subaru: a dog's best friend.
---
"A Dream Is Wish Your Heart Makes. . . " - Daniel N
Years ago Cinderella sang to all her woodland friends that they should never give up; "for a dream is a wish that your heart makes… " And today, over 70 years later from that first singing, I witnessed the miracle come true. Often it really isn't the largesse of the gift and how broad the stroke; but that Subaru allows each of us the opportunity to touch lives… Not just others, but our own. It happens the same way we sell cars and serve others…. One at a time …. Fairway Subaru gave up a dedicated portion of their showroom to create a life altering moment for a puppy, and a four year old. Enter Wyatt, a four year old battling respiratory failure from Greenville,: and Baxter, a four month old black and white Bernedoodle from Ohio. Partnering with Make-A-Wish South Carolina, the local Tv News stations from Greenville and Spartanburg, and forty plus guests descended together with balloons, cupcakes, doggy gifts and Wyatts friends and family to make Wyatts wish come true…. Wyatt often sleeps . . . UNTIL Baxter sat in his lap in his wheelchair.. The sometimes sleepy Wyatt snuggled, and suddenly wide awake, smiled realized this was his new forever friend… who would help nurture and provide therapeutic and tactile comfort, endless love and forever companionship…. I was thrilled to participate in a life changing moment for Wyatt, and Baxter.. and each of us watching, guests families, cameramen with not a dry eye anywhere: as this wish, this dream came true… God Bless Fairway Subaru, Make-a-wish, and Subaru of America.. The very heart of Love.
---
Planting Trees and Legacies - Amanda D
TreesGreenville keeps the "Green" in Greenville. Over 16,000 trees have been planted in the Upstate of South Carolina by TreesGreenville to improve the air quality by impacting the local carbon offset. One mature canopy tree removes the equivalent of 11,000 miles of car emissions every year. With over 16,000 trees planted, TreesGreenville has removed 176 million miles of car emissions in the Upstate. The nonprofit charity relies on local volunteers to assist in the mission of protecting and planting these trees. Dedicated to protecting the environment in their local community, the Fairway Subaru team picked up clippers, pruners, and shovels and planted 35 trees along the Swamp Rabbit Trail for TreesGreenville on November 14, 2020. The team underwent a thorough training process on how to properly plant, prune, water, and mulch trees prior to planting, and they dedicated an entire Saturday morning to complete the tree planting goal. By the time the 35 trees planted reach full maturity, they will remove over 396,000 miles of carbon emissions in Greenville per year. Fairway Subaru not only plants trees, they plant legacies that grow and protect the Greenville community for lifetimes.
---
Delivering Hot Meals and Warm Smiles - Amanda D
Over 1,239 meals are delivered daily to homebound seniors in our Greenville community by Meals on Wheels of Greenville. Twice every month, Fairway Subaru team members drive routes to deliver these meals. So much more is delivered than just the meals to the homebound clients - warm smiles, happy faces, and true friendship. Often, interactions with those delivering the meals are the only interactions the clients receive during the day. Fairway Subaru team members are now known by name by the clients on the routes they drive. The team not only helps in Meals on Wheels' mission to provide nourishing meals to homebound seniors, the Fairway Subaru team provides nourishment for the heart.
---
2,400 Meals Packaged For Homebound Seniors - Amanda D
In the early hours of November 20, the Fairway Subaru team took over the Meals on Wheels kitchen. Over 2,400 meals needed to be prepared and packaged in only three hours. The Fairway Subaru team rolled up their sleeves, put on their aprons, and took the challenge. Together, the team successfully assembled and packaged over 2,400 hot and frozen barbecue meals for local homebound seniors in the community in less than three hours. Local homebound seniors didn't go hungry that day because of Fairway Subaru volunteers at Meals on Wheels of Greenville.
---
Blanketing Greenville with Love - Amanda D
Miracle Hill's Shepherds Gate in Greenville provides a safe shelter for women and children experiencing homelessness. Shepherds Gate has over 60 beds for those women or children needing an emergency one. Fairway Subaru donated 80 blankets to Shepherds Gate, which provided each bed and resident with a warm blanket. Most who enter Shepherds Gate have little personal items, but they now have a warm blanket they can call their own. As the winter gets colder, Fairway Subaru is happy to share the love even more.
---
Local Puppy Wish is Granted at Fairway Subaru - Kea W
Fairway Subaru hosted a special wish reveal for 3-yearold Wyatt in celebration of their upcoming Share the Love campaign. Gathered with his family at Fairway Subaru, Wyatt received a bernedoodle puppy from Make-A-Wish South Carolina. Wyatt battles chronic respiratory failure. Blind and developmentally delayed due to his critical illness, he responds positively to sounds and soft textures. When the new puppy, ordained "Baxter" by the family, was placed on Wyatt's lap a huge smile appeared on his face. Baxter's soft fur delighted him and will be a constant source of joy and comfort. When asked to help grant a wish for a local child, the Fairway Subaru team was there to help make Wyatt's wish come true! Wishes bring hope to children fighting critical illnesses and give them renewed energy to fight harder and feel better. Wishes need stars in our community to make them come true and we're incredibly grateful for partners like Fairway Subaru that help create essential hope for kids like Wyatt.
---
Fairway Subaru Helps Update Wishes Come True! - Kea W
Make-A-Wish South Carolina creates life-changing wishes for children with critical illnesses. We are beyond grateful for the giving spirit of Fairway Subaru and its customers during the 2019 Subaru Share the Love event! As one of four national charities participating, Fairway Subaru raised over $2,000 for our wish-granting program! Wishes bring kids renewed hope and hope is essential when battling a critical illness. With a wish on the horizon, the exciting anticipation of a wish-come-true helps them believe in better days ahead. Wishes also strengthened family bonds, provide much-needed escapes from medical worries, and an opportunity to simply feel normal again. Wishes change lives of everyone they touch and we're grateful that Fairway Subaru continues to share in that experience! Right now, in this world of uncertainty where many wishes have been put on hold, the team at Fairway Subaru has been a star for wish kids - dedicated to bringing renewed strength and joy to children, families and communities who need it most. We are excited to kick off the 2020 Share the Love event this week and the funds raised will ensure that no child is asked to wait any longer than necessary to experience the power of a wish come true.
---
Thank You Fairway Subaru! - Julia B
Fairway Subaru has long supported the Greenville Humane Society as a Mutt Strut sponsor and through many other initiatives over the years. From weekly photos of our adoptable pets featured on their social media to national adoption campaigns, "Chew-baru" toy donations for our dogs, promotions at their store and their partnership with Subaru Loves Pets their contributions have changed the lives of homeless pets year after year! This October, they are donating $100 for each pet adopted (up to 31 adoptions)! We are so thankful for this amazing gift from such a compassionate and community-minded local business!
---
Fairway Subaru rides for the homebound! - Craig L
We can't thank the team at Fairway Subaru enough for their participation in the 2020 Wheels for Meals Charity Ride. 2020 has presented us with many challenges and turning a charity bike ride into a virtual ride was one of them. Fairway Subaru didn't let this change stop them has they had a whole team riding one of the routes for the event. With their participation and the participation of many others, we were able to raise enough funds to provide over 10,000 hot, nutritious meals to the homebound in Greenville County. It's the support and dedication from Fairway Subaru that allows us to continue our mission to deliver #MoreThanMeals.
---
Make Summer Count - Read a book! - Carol B
Hats off to the exceptional crew from Fairway Automotive for helping Public Education Partners (PEP) distribute more than 400 packs of books to Greenville County School students July 20 - 24, 2020! Volunteers donned face masks, braved the summer heat, and joined PEP to hand out books to families at Alexander, Cherrydale, Monaview, and Thomas E. Kerns Elementary schools. Your support has made a difference! - Research shows that access to books is a key factor in building strong readers. Fairway's team showed that Subaru Loves Learning. Thank you!
---
Thank you from RMHC of the Carolinas! - Marti S
We are so very grateful for the Share The Love campaign gift of $30,821.00. This is a gift that will impact many Ronald McDonald House families here in Greenville, South Carolina. Families that come from all over to seek family-centered healthcare from a specialist and a place to call home on the long journey to their child's recovery. Having family close by is an integral part of a child's healing.There are Ronald McDonald House miracles every day. Sometimes the miracles are medical. Other times, they show in the love that embraces families through small acts of kindness from strangers. Each day we feel the miracles of hope and encouragement that fill this home. A home that would not be possible without folks like yourselves.On behalf of the Board of Directors, our staff and the families we are so proud to serve, please accept our heartfelt gratitude to Subaru of America and the family at Fairway Subaru of Greenville, South Carolina. Marti Spencer RMHCC CEO/Executive Director
---
Fairway Subaru Blankets Greenville With Love - Amanda D
On July 24, 2019, Fairway Subaru partnered with the Leukemia and Lymphoma Society and invited local cancer patients, local cancer survivors, and their families to Cancer Survivior's Park. Cancer Survivor's Park, located in the heart of downtown Greenville, is a park and facility located along Greenville's famous Reedy River. The facility's doors were wide open, allowing the Fairway Subaru team to provide a warm welcome to each individual person. As patients and survivors dropped in, the team presented each one with a blanket and a hand-picked message of hope written by Subaru customers. Afterwards, each team member connected with the patients, survivors and their families to hear their stories over pastries and coffee. Fairway Subaru is honored to have been able to provide warmth and hope to cancer patients and survivors in our local community.
---
Leukemia & Lymphoma Society Blanket Delivery - Allison R
On July 24, 2019, the Leukemia & Lymphoma Society – South Carolina Chapter and Fairway Subaru had the pleasure of delivering blankets at the Cancer Survivor's Park as part of the Subaru Loves To Care program. These comforting gifts were accompanied by personalized messages of hope written by the Fairway Subaru leadership and staff. This incredible act of generosity was warmly received by survivors of all ages and types of cancer. We were also joined by our 2019 Boy of the Year, Dredgy, who was diagnosed with Pre-B Acute Lymphoblastic Leukemia (ALL) in early 2018. Since his diagnosis, the three year old's life has been full of hospital visits and aggressive chemotherapy treatments. Despite all this, Dredgy maintains an infectious sense of humor and love for life- especially for trains, superheroes and puppies. LLS is proud to partner with Subaru to spread hope, love and warmth to those fighting cancer, across the country and right here in the Greenville, South Carolina community.Many thanks to everyone at Fairway Subaru, the Cancer Survivor's Park, and Dredgy and family, not only for a memorable day, but for supporting LLS's mission to cure blood cancers and improve the quality of life of patients and their families.
---
Fairway Subaru & LLS bring love to LVH! - Gracie G
On Wednesday, June 26 The Leukemia & Lymphoma Society Eastern PA Chapter and Fairway Subaru had the pleasure of delivering 80 blankets and several arts & craft kits to the Lehigh Valley Health Network Cancer Center – Hazleton as part of the Subaru Loves To Care program. These comforting gifts were accompanied by personalized messages of hope written by the customers and staff of Fairway Subaru. This incredible act of generosity was warmly received by the Lehigh Valley Health Network Cancer Center staff who were thrilled to distribute these comforting gifts to their patients. Many thanks to everyone at Fairway Subaru and the Lehigh Valley Health Network Cancer Center not only for a memorable day, but for supporting LLS's mission to cure blood cancers and improve the quality of life of patients and their families.
---
Greenville Humane Society Mutt Strut - Amanda D
Fairway Subaru sponsored the Greenville Humane Society's eighth annual Mutt Strut. People walked their dogs on a two mile course on Greenville's famous Main Street. After the walk, dogs and their humans enjoyed the Mutt Market festival and after party with local vendors. Not only does the Mutt Strut bring awareness to the Greenville Humane Society, it also gives them the ability to shelter, feed, and vaccinate all of the animals in their care. In 2018, the Greenville Humane Society found homes for over 6,400 animals. Fairway Subaru is honoured to have helped continue the Greenville Humane Society's mission to preserve the lives and enhance the well-being of all animals.
---
Fairway Subaru's Gift of Love Gives Hope - Julia B
The $21,685 check the Greenville Humane Society received from the December 2017-January 2018 Subaru Share the Love event was truly a gift of love and came at an incredibly important time. Knowing that 1.5 million shelter animals are killed in the U.S. each year for contracting highly treatable illnesses or injuries due to lack of space, the Greenville Humane Society realized an urgent solution was needed. We opened the doors to our new Healing Place in September 2017, extending hope to the sick, unwanted and discarded animals who would otherwise face being euthanized in other shelters. These vulnerable animals are now receiving life-saving medical care and compassion for the first time. Consisting of a ground-breaking Parvo Puppy ICU, Ringworm treatment room and dog and cat nurseries, The Healing Place triples our ability to proactively save lives. No other shelter in the Southeast has a facility dedicated to treating sick and injured animals. The new 4,500 square foot facility allows us to care for 10% more trauma cases, such as broken bones, amputations and gunshot wounds. The $21,685 gift from Fairway Subaru covered all of the First Quarter 2018 medical costs to treat nearly 600 sick animals at The Healing Place. The Greenville Humane Society could not provide this ground-breaking care without the generosity and community commitment from Fairway Subaru.
---
Fairway Subaru plants 558 trees w/TreesGreenville - Joelle T
Fairway Subaru's support is helping to plant 558 trees! At maturity, 558 trees can remove the equivalent of up to 6.1 million miles of car emissions, each year!!! Through Subaru Loves the Earth and their Love Promise commitment, critical funding was raised so TreesGreenville can continue to plant, promote, and protect trees in and around Greenville County. TreesGreenville was selected as their Love Promise partner in April of 2017. A tree was planted this fall for each of the 58 Subaru's sold that month! Our partnership continued with TreesGreenville's, "Plant a Tree - Win a Car - Be a Forester" raffle, sponsored by Fairway Subaru. With Fairway Subaru's help, TreesGreenville sold 500 raffle tickets and one lucky winner won a brand new Subaru Forester on South Carolina's Arbor Day. A tree will be planted for each of the 500 raffle tickets sold. What size trees will be planted? 15 gallon containers sourced locally from growers here in the Upstate. What kind of trees do we plant? Mostly native and always urban hardy species. We plant over 50 different species each planting season. When possible, we plant Legacy Trees, large canopy trees which will live 100 years of more. Some of our favorite Legacy Trees are: white oak, nuttall oak, swamp chestnut oak, overcup oak, shumard oak, black tupelo, southern magnolia, tulip poplar, american holly, american linden, and honeylocust. Thank you Fairway Subaru! Your Love Promise is making a huge impact here in the Upstate. Clean air. Blue skies. We'll all be able to breathe a little easier, literally.
---
Fairway Subaru Really Does Love Pets! - Paula C
Greenville County Animal Care's first "TAIL"gate Party was a huge success and thanks to a generous donation from our friends at Fairway Subaru, we were able to find loving homes for 58 of our awesome pets! As the states largest open admission shelter, we are working hard to make Greenville a no-kill community and this is a huge step toward making it happen. So many happy families walked away with a new best friend! Thanks so much, Fairway Subaru, for standing next to us in our mission to save lives!
---
We appreciate the forthrightness at Fairway Subaru - Lawrence B
My wife and I just wanted to say a big thank you to the manager at Fairway Subaru, Harry New, and our salesperson, Dan Ballard, for their courtesy and eagerness to help us build and receive the right vehicle for our family.
---
Subaru Giving Back - Nicole R
Fairway Subaru and the Leukemia Lymphoma Society gave over 1,000 blankets to Greenville Children's Hospital (GHS) for kids going through treatment. Lilly Mueller was part of the delivery team, which was extra special, since she is still receiving treatment for her Leukemia at that particular hospital. GHS was so appreciative of Subaru, and the thoughtful gift, that they sent a thank you card. Words can't express how great it was to see Lilly and how excited she was to be able to give back to a hospital that's given her so much. Thank you Subaru.
---
Fairway Subaru Delivers Their Love Promise! - Logan P
Fairway Subaru is considered a part of the Meals on Wheels family for so many reasons. There is not a single event throughout the year that Fairway doesn't take part in, from support vehicles at our annual Wheels for Meals cycling ride, to fundraising for us through the annual Share the Love event. But it goes so much deeper than just dollars raised: Fairway staff, including managers, sales reps, and service techs, partake in the Meals on Wheels mission from start to finish. Not only do they provide the funds necessary for meal ingredients, but the team volunteers their time on our meal packing line preparing plates and delivers several routes to get the food to the home-bound neighbors in need. It's so much more than sponsoring a fundraiser it's believing and actively taking part in our mission of fighting hunger and isolation in the community. Fairway Subaru doesn't just make a Love Promise, they deliver it to neighbors in need every day.
---
Thank you from the Greenville Humane Society! - Kim P
Dear Fairway Subaru, Thank you for your sponsorship of the 2015 Mutt Strut! We were honored to have Fairway Subaru as a Misting Station Sponsor this year. Thanks to generous supporters like you, the Fourth Annual Mutt Strut raised a grand total of over $61,000 for the Greenville Humane Society! This family-friendly event proved once again to be a success, with over 1,500 people and 1,200 dogs in attendance. Thanks to the community support, the Mutt Strut continues to be South Carolina's largest dog friendly race! Check out our website at www.greenvillehumane.com or like us on Facebook for information about special events coming soon. Yappy Hour continues on the second Thursday of each month through October and mark your calendars for the Third Annual Pawmetto Derby Party on April 21, 2016! Thank you again for your support - it means so much to us and, more importantly, the many animals in our care. Sincerely yours, Kim Pitman Executive Director
---
Local Subaru dealership gives back! - Michelle R
Guess what??!!! FAIRWAY SUBARU IS AWESOME!!! Not only did I have an excellent experience when I purchased my new Crosstrek late last year, wonderful service when I busted a tire a couple months later, but also received great support when I informed them of a fantastic new opportunity to give back to the community. The SC Trailblazer Challenge is an event in which participants agree to take on the challenge of hiking 28.3 miles in one day and raise funds for the State Chapter of Make-A-Wish. This one event oozes the Subaru mantra with ties to natural parks and wilderness areas, Leave-No-Trace principles, and Sharing the Love to kids in need. They agreed completely and provided a business-level sponsorship to the event. Not only did I complete the 28.3 miles along the Foothills Trail in excellent time, but this awesome inaugural SC Trailblazer group raised over $150,000 (and counting!) for the kids of SC Make A Wish! Thanks to fantastic people like Fairway Subaru!!! See here for more details: http://www.kintera.org/faf/home/default.asp?ievent=1128213
---
Subaru Loves the Earth - E-Waste Event - Danielle S
We would like to thank our customers for participating in our E Waste Recycling event during the month of April. With your help, we were able to prevent 2,090 lbs of carbon emissions from polluting the atmosphere. This is equivalent to saving 81 trees, 356 gallons of gasoline, 3,030 plastic bottles, and 13,936 aluminum cans. Thank you for helping strengthen the Subaru Love Promise!
---
April 1-30, 2015 E-Waste Recycling Event - Molly M
Throughout the month of April, we are hosting an E-Waste Recycling Event in our store to collect unwanted electronics. We've arranged to work with a company who will responsibly collect, re-purpose, and recycle your electronic waste. Help us protect our environment. Just show up with your E-Waste and we'll do the rest! The first 50 customers who contribute will receive a complementary environmental badge of ownership. We will accept: LCD Monitors, Cell Phones, Laptops, Tablets, CRTs up to 40", Video Games/Consoles, Fax Machines, DVD/VCR Players, Printers, Computer Peripherals, Switches/Routers, Cords and Wires.
---
Patient Service - Casey D
Great job following up using the email. Did not harass me with phone calls. We took 2 months to get the deal done, Jeff was with us the whole way and answered questions we had. I would buy a car from him again and refer my colleagues and customers to him. I shopped the Spartanburg Subaru dealer and never got a return call after they said they would call; so Jeff and the team in Greenville were top notch in all aspects.
---