The 2022 Subaru Love Promise Customer and Community Commitment Award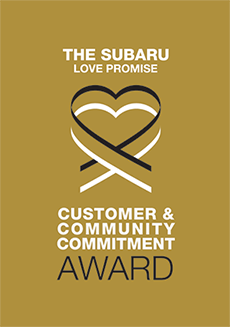 We've been nationally recognized for our dedication to our customers, our community, and the Subaru Love Promise.
We're honored to receive the 2022 Subaru Love Promise Customer and Community Commitment Award. This award nationally recognizes elite Subaru retailers who provide an exceptional customer experience at every interaction with Subaru. These retailers have also demonstrated an outstanding commitment to supporting passions and causes in their local communities in important areas such as the environment, community, health, education, and pets.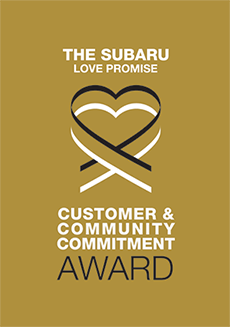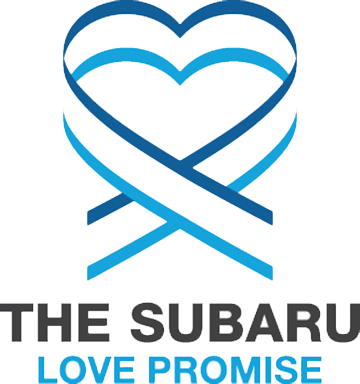 What is the Subaru Love Promise?
Subaru and our retailers believe in making the world a better place and the Subaru Love Promise is our vision of respecting all people. This is our commitment to show love and respect to our customers and to work to make a positive impact in the world.
How is Fairway Subaru dedicated locally to the Love Promise?
Our Love Promise can be seen in various partnerships with local charities and non-profits. We're grateful for the opportunity to serve our Greenville community.
Greenville Humane Society
TreesUpstate, TerraCycle, Ever Green Environmental, Upstate Forever
Public Education Partners, Adopt-A-Classroom
Meals on Wheels of Greenville, United Way of Greenville County, Make-A-Wish South Carolina, Harvest Hope Food Bank
American Heart Association, Leukemia and Lymphoma Society
Love Promise Stories from Fairway Subaru
Subaru and Fairway Subaru believe in making a positive impact on the communities in which we live and work. We uphold that belief through our Love Promise Community Commitment. Every month, we select inspiring stories from customers and partners from around our area who strive to support our collective commitment and feature them here
The Giving Tree - Aaron D
Imagine a life without trees? Impossible right? Thanks to the help of Fairway Subaru and TreesUpstate (formerly known as TreesGreenville), customers and staff got the chance to nurture and learn about the importance of arboriculture and our mission to plant, promote, and protect trees in the Upstate. Did you know? One mature canopy tree can remove the equivalent of about 11,000 miles of car emissions each year. And we've planted and given away over 16,000 trees! During Subaru Loves the Earth month, our landscaping books lined the tables in the dealership showroom in the hopes that everyone could become their version of an arborist. We even had the opportunity to donate several trees that bloomed over the month. Now they are finding their forever homes with the staff of Fairway. However, there is still a lot of work to be done. When best management practices are followed urban trees can live 40, 60, 80, and up to 100 years and longer! Due to poor site design, inadequate root space, poor species selection, poor nursery stock, improper tree installations and care, the average lifespan of an urban tree is only 7-15 years. With the help of Fairway Subaru bringing awareness to the cause, we hope to keep our Greenville green!
---
Service With a Purpose - Mia T
We at Harvest Hope Food Bank are working together with partners across our communities such as Fairway Subaru to ensure no table is empty tonight. We distribute 27 million pounds of food each year throughout the state to build a hopeful hunger-free tomorrow. Our donors and volunteers are the key to preventing hunger in our communities. We are thankful for Fairway Subaru! They have volunteered their time to package food boxes, hosted a food drive, and now offer a year-round drop-off location for non-perishable items. Their customers can donate anytime in the service drive… service with a purpose!
---
One Bottle at a Time - Rob E
Local programs are the backbone of recycling in South Carolina. And Fairway Subaru is a part of just that. Through their understanding and commitment, they are providing the support to see the success of their community's recycling programs. While the environmental benefits of recycling are well recognized, what is less known is that recycling is an economic success story. Fairway Subaru has been our partner for quite some time now, but recently they have switched gears to allow outside customer recycling! By turning waste into valuable raw materials, recycling creates jobs throughout the process and adds significantly to the South Carolina economy. A green, clean community is a great place to live, work, raise a family, and do business. Everything recyclable and uncontaminated does get recycled! And every bit truly makes a difference. Over the past year, we have recycled over 2,004,516.34 pounds of material that would have gone to a landfill. And we are proud to support Subaru Loves the Earth and Fairway's excitement in creating a greener Greenville.
---
Building a Healthier Community - Margaret S
Cardiovascular disease claims more lives each year than all forms of cancer combined. What's even more alarming is, cardiovascular deaths are largely preventable through lifestyle changes. To build a community of longer, healthier lives, our friends at Fairway Subaru have joined hands with the American Heart Association to bring the mission of the AHA to their employees and the community at large. All throughout American Heart Month, Fairway employees competed in heart-healthy challenges while raising funds to support the AHA. It was department versus department to claim the first title of Fairway Field Day Champions. Overall, they raised $500! Their support will allow the AHA to continue local efforts with a targeted focus on improving nutrition security, improving blood pressure, and combatting tobacco and vaping across the Upstate. Thank you, Fairway Subaru!
---
The Power of a Post - Kate F
"We went and picked up this pup over the weekend from the Greenville Humane Society all because of your posts! We have a 2021 Subaru Ascent from y'all and we love it." It is always heartwarming to hear that our Fairway family customers support the local organizations we partner with. A little love and a lot of social media, a puppy from the shelter was adopted and joined a furever home. The GHS works hard every day to provide homeless pets with more than just the basics of food and shelter, their pets receive daily enrichment, loving attention, and medical care. So, we'd like to thank our wonderful customer for sharing their growing family and giving Penny the pup a new beginning!
---
Making Bennett's Wish Day One He'll Never Forget - Kea W
A huge THANK YOU from all of us at Make-A-Wish South Carolina for helping to make Bennett's wish day extra special! From pulling the float in the parade to joining the Greenville community in celebrating Officer Bennett, we couldn't be more grateful. Because of you, wish kids like Bennett can experience a transforming wish, giving them strength on difficult days. As a kid living with a critical heart condition, Bennett knows all too well the challenges of a chronic illness. He just turned five and already, he's had 4 invasive heart surgeries for his condition. But this past weekend, because of donors like you, Bennett's wish "to be a police officer and catch thieves" was granted (and he was absolutely over-the-moon with joy)! We hope these stories continue to inspire your team, knowing that your dedication to our mission helps transform the lives of kiddos like Bennett every day!
---
More Than a Cup of Coffee - Josh W
It is estimated that 2.5 billion single-use coffee cups are discarded globally every year. This equates to a staggering 5,000 every minute. If a person throws away one coffee cup per day, that adds up to 23 pounds of waste per year. Thanks to our friends at Fairway Subaru and their partners, TerraCycle, Cohesive Coffee now offers recycling! When we started dreaming about a new cafe space in Greenville, we knew we wanted a place for community. A place where everyone has a seat at the table. Where kindness is cool, and every drink is a work of art. We wanted a place where we don't have customers, we have family. Now our family can have peace of mind with each cup, knowing it will be recycled and turned into something new! Thank you again to Fairway for giving our customers the choice to go green. The more we think of garbage as a resource, the closer we will be to eliminating the idea of waste.
---
Delivering Hope and Help - Brad D
Every month, the Upstate Branch of Harvest Hope Food Bank packs over 3000 supplemental food boxes for older adults in our communities who struggle with food insecurity. Thanks so much to the team and representatives from Fairway Subaru for joining us on January 6th to help pack those boxes, making sure folks are cared for and can receive the food they need to help alleviate the pressure on their food budgets. One in six South Carolinians struggle with food insecurity and hunger. These issues reach into every community, and our mission is to provide hope, compassion, and security for our neighbors that need it. After hosting a food drive in November of 2021, the team at Fairway Subaru doubled down and volunteered their time to support one of our key programs. It is partnerships and commitments like these that allow us to continue working towards our goal of a hunger-free South Carolina!
---
Joy Cart for Teachers - Qena J
On behalf of Public Education Partners and our friends at Greenville Early College (GEC), I would like to say thank you to Fairway Subaru for bringing the Joy Cart idea to life for the faculty and staff at GEC. Mrs. Ford wears many hats at the school and is such a dynamic Principal. The outreach and support allows her to boost the morale of the educators in her building who are working tirelessly to support students and families. Greenville Early College is an 8th-12th grade program with the goal to introduce and provide college experiences, academic assistance, and acceleration for students. This year has been fraught with unprecedented circumstances. We never imagined that we would have to separate and socially distance as a result of a global pandemic. We have watched firsthand how families have grieved the loss of loved ones from a variety of perspectives along with the social and political implications of the decisions we've made as a nation. When the students return to school, things may look and feel different. There will be even smaller class sizes with additional protocols and practices to ensure that they are safe. Luckily, they will always find teachers who want to see them succeed, provide new opportunities to stand out and ask questions, and ways to grow. Through our partnership, Fairway Subaru was able to bring a spark of joy to the GEC team this holiday season by showering the teachers with their favorite snacks. This gesture of kindness is sure to make their countdown to a new semester a little bit sweeter!
---
Food For Thought - Mia T
One in six South Carolinians struggle with food insecurity and hunger. People cannot function when they are hungry, and many of our neighbors are unable to afford basic needs like groceries. At Harvest Hope Food Bank, we rescue, pack, transport, and deliver nutritious food in twenty counties in South Carolina, which helps over 1 million people put food on their tables. With the support of Fairway Subaru, we are able to continue our mission. Food is more important than ever, especially due to the large impact COVID had on fundraising and donations. During Giving Tuesday, Fairway hosted an all-day food drive with staff volunteers to help offset this deficit. With their social media outreach coupled with ours, they collected over 320 pounds of food! We provide hope and security by meeting basic human needs with dignity and compassion. Our donors and volunteers like Fairway Subaru are the key to preventing hunger in our communities. We could not do it without them!
---