The 2023 Subaru Love Promise Customer and Community Commitment Award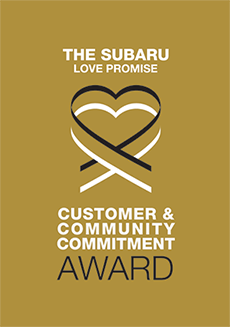 We've been nationally recognized for our dedication to our customers, our community, and the Subaru Love Promise.
We're honored to receive the 2023 Subaru Love Promise Customer and Community Commitment Award. This award nationally recognizes elite Subaru retailers who provide an exceptional customer experience at every interaction with Subaru. These retailers have also demonstrated an outstanding commitment to supporting passions and causes in their local communities in important areas such as the environment, community, health, education, and pets.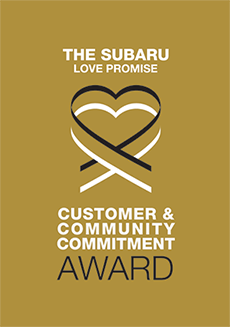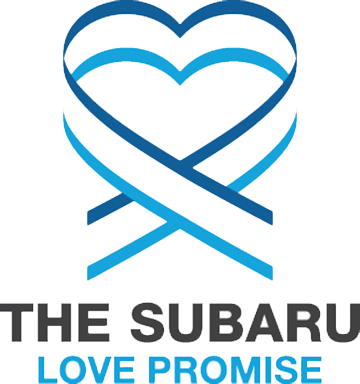 What is the Subaru Love Promise?
Subaru and our retailers believe in making the world a better place and the Subaru Love Promise is our vision of respecting all people. This is our commitment to show love and respect to our customers and to work to make a positive impact in the world.
How is Fairway Subaru dedicated locally to the Love Promise?
Our Love Promise can be seen in various partnerships with local charities and non-profits. We're grateful for the opportunity to serve our Greenville community.
Greenville Humane Society, Sassafras Mountain Hawk Watch
TreesUpstate, TerraCycle, Ever Green Environmental, Upstate Forever, Friends of the Reedy River
Public Education Partners, Adopt-A-Classroom, Berea High School, Welcome Elementary, Greenville Early College
Meals on Wheels of Greenville, United Way of Greenville County, Make-A-Wish South Carolina, Harvest Hope Food Bank, Miracle Hill Ministries
American Heart Association, Leukemia and Lymphoma Society, Blochaven Climbing Gym, Alzheimer's Association
Love Promise Stories from Fairway Subaru
Subaru and Fairway Subaru believe in making a positive impact on the communities in which we live and work. We uphold that belief through our Love Promise Community Commitment. Every month, we select inspiring stories from customers and partners from around our area who strive to support our collective commitment and feature them here
Our First Beer - Kate F
Inspired by Mark Miller Subaru in Utah, we started the journey in 2022 to create a craft beer with a local brewery. Just down the road from Fairway Subaru was a brand-new location, Double Stamp Brewery – a 90s-themed bar with two food options nearby. Perfect! All throughout the summer, we discussed with their staff on how we wanted the beer to taste and out came Forester Gump, a limited-time 7.2% chocolate stout with a hint of spice. For each beer sold and alongside our car sales, the brewery will donate to our Subaru Share the Love® hometown charity, Upstate Forever. Their mission is to protect critical lands, waters, and the unique character of the Upstate region. They envision a future that is healthy, vibrant, and prosperous. To show our continued support, the staff of Fairway hosted a celebration at the brewery for other members to try the brew. It was a nice time bonding with coworkers and promoting the beer for a cause. The 4-pack cans didn't last long after Share the Love ended. We are looking forward to another great year with Double Stamp Brewery and our upcoming check presentation!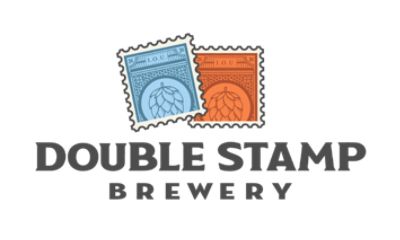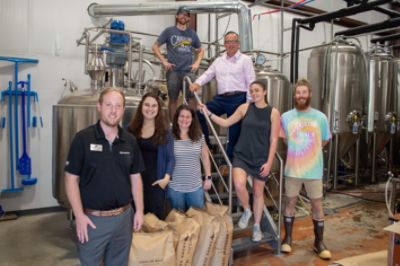 ---
Save a Life, Donate Blood - Janna B
According to the Red Cross, about 29,000 units of red blood cells, 5,000 units of platelets, and 6,500 units of plasma are needed daily for healthcare professionals to save lives. With only 3% of Americans donating blood every year, it has never been easy for blood banks to meet this need. There has also been a 10% decrease in the number of donors in the United States, which faces its first national blood-supply crisis. Many hospitals have reported rationing their blood supplies since there is simply not enough for the number of surgeries, traumatic injuries, cancer treatments, and other serious illnesses. Fairway Subaru saw the need and took action! Alongside their company-wide, hearth-healthy challenges they were doing for the American Heart Association, they teamed up with us at The Blood Connection to host a blood drive at their dealership. Almost 20 community members and staff donated blood, which translates to about 57 lives saved! Most of the blood supplied to Upstate hospitals comes from The Blood Connection – a Greenville-native company dedicated to ensuring healthcare providers in the area have access to an adequate and safe blood supply for the past 20 years. After COVID-19, there's been a shortage of everything, especially blood - so of course we wanted to find a way to help in our community, which is why we are grateful to our long-time partner, Fairway for hosting a blood drive. It's always so touching to hear the stories like Harmony, a blood recipient, who was saved by blood donors. She had the special opportunity to meet one of the people who played a part in changing her life. Another way Fairway Subaru Loves to Care®!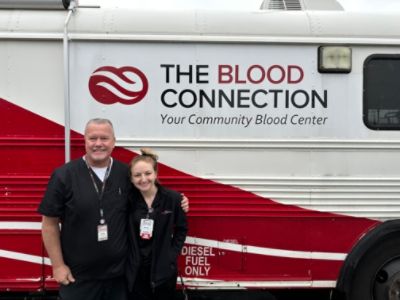 ---
Teachers Lead the Way - Jonathan S
Of all the professions we take for granted, teaching tends to be high on the list of careers that are unappreciated; Completely ignoring the fact that teachers make it possible for doctors, lawyers, veterinarians, nurses, and other professions to exist… without a high school education, how does one expect to reach college? ALL teachers, from kindergarten to college professors, are necessary but rarely shown appreciation. Those are the levels EVERYONE learns at… where we expect the most while providing the least. Most of us had the opportunity to attend grades k-12, so we assume our peers did as well. Some of us remember asking teachers for a pencil because we'd left all of ours at home or because our families couldn't afford the supply list. Two completely different experiences with the same outcome, the teacher had or found you a pencil to use. As students, we either thought nothing of it or for others it was a saving grace. Parents even expected the teacher to compensate in any areas where their child was lacking. Teachers, however, would have to figure out how to keep their stock of extra supplies up. They didn't just go down to a supply closet in the main office and re-stock pencils, paper, erasers, and the like when they ran low. It would usually come right out of their paycheck. At Fairway Subaru, we know the problem is bigger than any one person or organization, so it is our goal to reduce the spending our teachers must put into their classrooms to set their students up for success. Did you know, 93% of teachers nationwide spend an average of $700 per semester from their own salary to stock supplies and furnish their classrooms? With AdoptAClassroom.org, we were able to adopt 6 teachers, donate $3,000, and help 150 students at Berea High School. One of 15 public high schools in Greenville, SC that has approximately 1,025 students across grades 9 – 12. Of those, 80% receive free or reduced lunch assistance. That means that of 1,025 students, 821 come from families with incomes that fall between 130% and 185% of the federal poverty level, and for a family of four this means they must make $44,122 a year or less to qualify. AdoptAClassroom.org is a national nonprofit that provides classroom funding to K-12 teachers and schools throughout the United States. Educators can use donations they receive through AdoptAClassroom.org to purchase the school supplies their students need to learn. Thanks to Subaru of America and local retailers like Fairway, they have donated over $5.8 million dollars to help the teachers and students they serve. Past that, in August for Loves Learning month and beyond, Fairway collected school supplies and planned events to coincide with the teacher's lesson plans and collected words of encouragement and support from our staff and customers! With the transition of our schools from the traditional calendar to a year-round learning experience, a lot of teachers are missing out on their previously relied-on summer jobs. This means that teachers have even less than before to live on and less to put into their classrooms. A big reason Fairway Subaru is already looking toward the 2023-2024 school year and how we can work with our customers to make the largest impact on educators.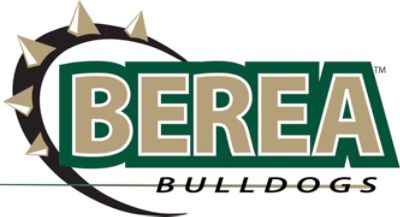 ---
Plant a Tree, Win a Subaru - Aaron D
Success builds success, builds success...and wow! We've done some great things together with Fairway Subaru and the Greenville community. We've now planted or given away 34,000 trees! Others may talk the talk, but we have the trees to prove it. Since 2005, we've had around 11,000 volunteers leading the way. And what's more, these trees will continue to grow for another 100 years. With Fairway Subaru, we created a campaign to sell raffle tickets for customers to win a 2023 Subaru Crosstrek. At $100 each, we sold out all 500 tickets! Proceeds from this raffle will help plant, promote, and protect trees in the Upstate. The drawing happened live in the Fairway showroom as the surprise announcement from the office of the Mayor of Greenville, Knox White was made during the presentation, making South Carolina Arbor Day also Joelle Teachy Day (our local arborist with TreesUpstate). One mature tree removes up to 11,000 miles of car emissions each year, so this was the perfect way to show that Subaru Loves the Earth®.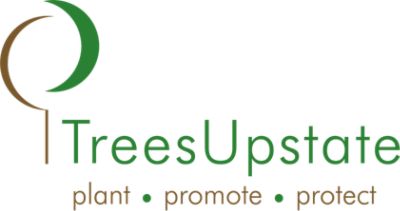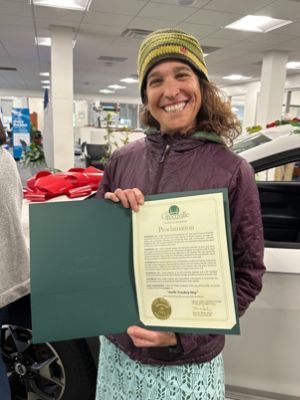 ---
Field Day for AHA - Michaela S
Field Day helps everyone combat burnout, build connection, and cut stress. Teams get ready for game day with the Proper Prep Challenge, which improves overall health with activities and education. And on the big day, teams come together to play together! Oh, and did we mention everyone will have so much fun while raising funds to save lives in the Greenville community? Fairway Automotive created their teams and began the two-week, heart-healthy challenge! Activities included a chili cookoff, blood drive, volleyball tournament, drinking water, exercising, learning CPR, and raising over $540 for the American Heart Association here in South Carolina. Did you know, every 34 seconds someone has a heart attack and every 40 seconds, someone has a stroke. These donations raised by the Fairway team will aid in research for doctors so they can better treat heart disease among patients, provide information that can save a life, and fund programs for a world of longer, healthier lives.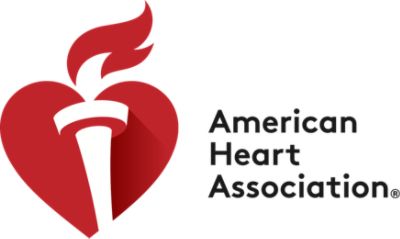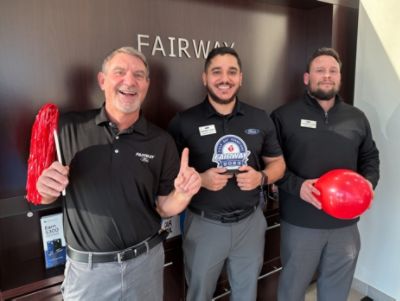 ---
Dealership CleanUp - Kate F
Our Green Team in action! We spent a couple of hours picking up trash around the dealership. Unfortunately, being on a busy road brings in a lot of outside litter. Through Subaru Loves the Earth®, we offer recycling to our customers, so we made sure our TerraCycle® bins were out and empty. We also work with Ever Green Environmental for our public pickup and participate in the Cabin Air Filter and Plastic Recycling programs. As some Green Team members were walking around, they also fixed the landscaping thanks to the suggestion from our own arborist at TreesUpstate. We look forward to implementing this each month when we meet!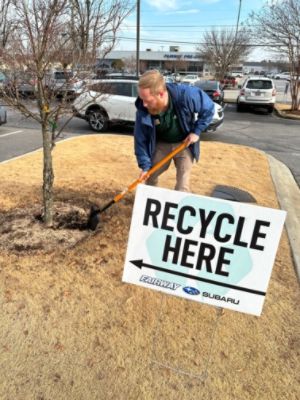 ---
Just Got Served! - Amy R
Through Subaru Loves Learning®, our partner at Fairway Automotive held their very first volleyball tournament with us, the Berea High School volleyball team! We were very excited to host them as they have been big supporters of our season. Their marketing manager even became one of our coaches! During the tournament, we invited Poor Man's Burger food truck, as well as had the American Heart Association come out, and Fairway raised over $100 for us. Everyone had a great time and it was nice to meet some of the staff!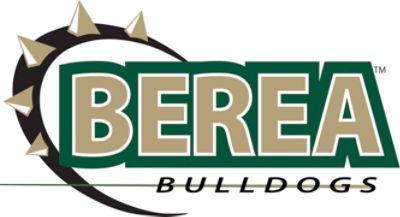 ---
Love From States Away - Mia T
Right after Christmas, Harvest Hope Food Bank had millions of pounds of food at risk as more than half a foot of water flooded our facility due to a main water break. While the flooding ruined shelf-ready foods, the power outage raised the temperature in the freezers. Community members and local businesses gathered alongside South Carolina's largest food bank, which provides over 20 million meals on average to neighbors in need across the Upstate. Almost 13 hours away, Adventure Subaru saw the need and provided! They shipped over 280 pounds of food to Fairway Subaru in Greenville while Fairway collected 867 pounds total over the holidays! If the water had made it to the freezers, we could have lost more than a million dollars in food. Thankfully, we are back to regular operations thanks to community volunteers and campaigns like Subaru Loves to Help®. With this kindness, Harvest Hope is seeing as much food come in the door now as we lost!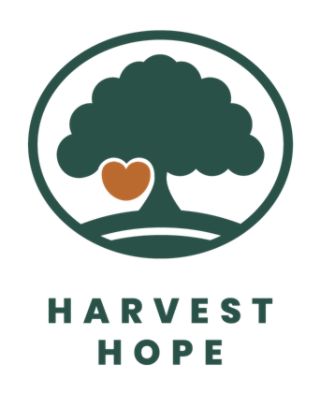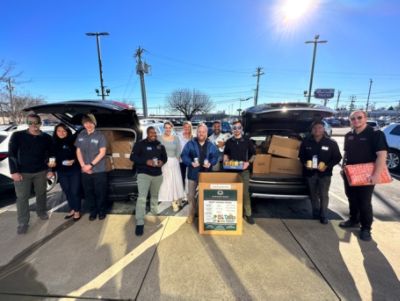 ---
Fairway Subaru Loves to Help - Ann H
Miracle Hill Ministries is South Carolina's largest and most comprehensive provider of homeless services. At our core, we exist to serve people experiencing homelessness—physically, emotionally, and spiritually as they move toward independence, stability, and healthy relationships. So, we are grateful to work closely with our friends at Fairway Subaru during the Subaru Loves to Help® initiative, which is all about supporting those who need it the most in our communities. During February, Fairway Subaru and other retailers have donated over 500,000 pairs of socks to those experiencing homelessness. Socks are a small item that many of us take for granted each day, however they can truly have an enormous impact. Many people experiencing homelessness walk several miles each day, and spending considerable time on their feet causes socks to wear out quickly. Fairway Subaru is honored to be able to help make this gesture of compassion for those who find themselves without a roof over their heads in the Upstate. In 2022, thanks to partners like Fairway Subaru, we were able to provide over 208,101 shelter beds, 337,340 meals, 9,460 cold weather beds, and foster 366 children. For almost five years in a row, we have received donations from Subaru customers and self-care kits from local Subaru Ambassadors that will be given to our overnight guests. Thank you, Fairway Subaru, for 1,000 pairs of socks that will greatly impact those experiencing homelessness in Greenville, SC!

---
A Wish Granted 💙 - Kea W
Subaru is the largest automotive donor to Make-A-Wish and when we Share the Love, we change lives. After 14 years, Subaru of America Inc. and its participating retailers, including Fairway Subaru, have donated more than $227 million to select charities through the annual Subaru Share the Love® Event. Since 2011, Make-A-Wish has received more than $29 million of those funds, which has enabled us to grant more than 3,000 wishes and spark everlasting hope for wish kids and their families. And that's why the Subaru Share the Love partnership means so much to our mission here in Greenville, SC! In December, Make-A-Wish South Carolina hosted a holiday party for our Upstate SC wish families and to make it fun and festive, we invited our friends from Fairway Subaru to join. Of course, they came out in full force with their service team, hosting a station where kiddos crafted magic reindeer food to spread on their lawn Christmas Eve. As they are always showcasing their Love for the Earth, it was even a zero-waste craft with recycling provided during the event! It was such a wonderful party with over 80 wish families in attendance including 7-year-old Rhiannon who had her wish come true earlier that day! We surprised her with a party to celebrate an upcoming trip to Disney… wish granted. The Rapunzel-themed event included presents, cheering loved ones, and her favorite lunch. Rhiannon now has a clean bill of health, but the road there hasn't been easy. She was diagnosed with Langerhans cell histiocytosis (LCH), a rare disorder that causes lesions to form in the body. "She had to have surgery to remove one lesion from her skull that was attached to her brain and then once that was confirmed what it was, she had to have a year of chemo and steroids," said Samantha McConnaughey, Rhiannon's mom. She still must go to the doctor every four months for bloodwork and will need screenings throughout her life. There are more than 400 children across the state waiting on their wishes due to a backlog from the pandemic, but the community was able to come together to celebrate her strength and show her the support she needed to get excited for her wish. THANK YOU team at Fairway Subaru for always going above and beyond for our mission and bringing lots of hope and joy to our wish kids. This is just another amazing way our friends at Fairway Subaru Share the Love during the holidays!

---